Tog några fotografier när Sofia Jannok hade sin första och hittills enda konsert på Trästockfestivalen i Skellefteå.
Under festivalen teckenspråktolkades några av artisterna/gruppernas låttexter och mellansnack. Längst ner se ni tolken i aktion. Ja, det är en av Sofia Jannoks låtar hon tecknar.
Ps. Konserten fick 4 av 5 poäng av mig. DS.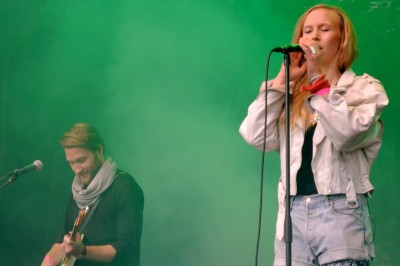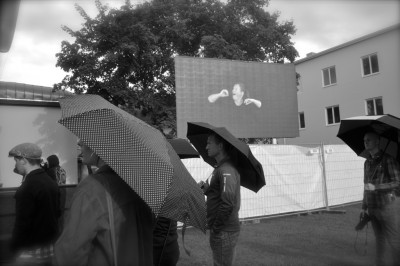 Sofia Jannok
Ahpi – Wide As Oceans

Song of Arvas
Efter det ganska trista jazzpopalbumet Assogattis/By the Embers är Sofia Jannok tillbaka i den samiska popmusikens land. Valet att återvända till sina popmusikrötter, som vi hörde i debutalbumet White/Ceaskat, kan vara hennes bästa musikaliska beslut. Hennes tredje album Áhpi är hennes bästa album hittills.
Albumet som Sofia Jannok producerat tillsammans med Axel Olle Sigurd Andersson (känd från Ára) och Henrik Oja (Säkert-producent) känns som en samisk popskiva som är i takt med tiden. Och med Áhpi kommer nog hennes fanskara växa och delvis förändras. De som älskar jazz kommer troligtvis söka sig till andra artister.
I texter besjungs naturen, främst vattnet. Jannok sjunger om det oändliga havet, vattnet i Bali och sjöar. Sofia Jannok färdas ensam genom naturen och längtar efter någon att räcka sin hand. Den ljusa popmusiken får dock det politiska budskapet som Sofia Jannok vill lyfta fram att försvinna. För att förstå vad Jannok kämpar för måste man läsa i texthäftet där även engelska översättningar finns.
De samiska poplåtarna är lätta att tycka om och den som faller mig bäst i smaken är titelspåret Áhpi. Låten känns lika oändlig som ett hav eller en enorm myr. Jag har även fastnat för sången Javvrit Juiget, som för tankarna till den samiska popmusiken vi hörde runt millennieskiftet. Men när du läser denna recension har jag kanske bytt favoritlåtar. Det tackar jag för. Albumet med sina varierande låtar klarar många lyssningar.
Recensionen har tidigare publiceras i tidskriften Samefolket nr 6-7 2013